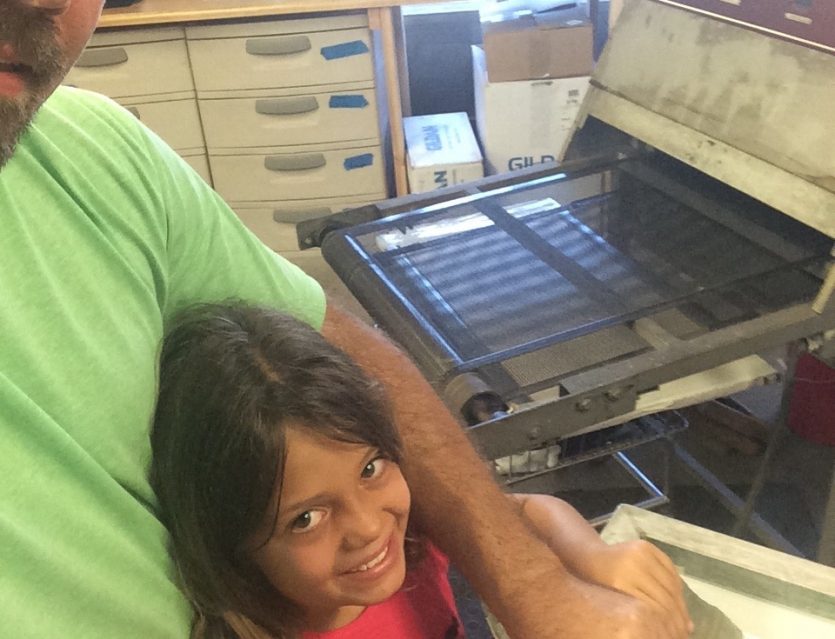 Humble Beginnings
I Started EWG Printing in 2004 in my parent's garage. I wanted to create a clothing line that expressed my beliefs to the masses. I had a 100 shirts printed up and tried to sell them to my friends but ended up giving away more than I sold, it was a lot of fun. For my next project I printed up 100 hoodies, that cost $25 each to make which meant I couldn't just give them away. I wanted to sell them to my friends for $35 each but not many of them could afford to buy them so I took them to the surf shops. This is where I received my first lesson in how the resale market works. The shops loved them but were only willing to pay $20 each for them(most retail shops have a 100% markup), problem was they cost me $25 to make. I needed to find a way to produce them cheaper so I started looking at buying the equipment to print them myself.
While out wakeboarding with friends one weekend, I mentioned that I was looking to start printing my own stuff and they told me that some mutual friends had just sold a fully equipped screen printing shop. I thought oh great just my luck, I missed my opportunity by a few months. However a few weeks later I received a call from those mutual friends, they had repossessed their shop because the new owner hadn't made any payments. I went and looked at it and made them on offer. Problem was I had no money. I did though have a truck that I'd been trying to sell for almost a year with no offers. That night when I got home someone that had an expired Auto Trader magazine from a few months before called and asked if my truck was still for sale. He had been saving money for months and was hoping that I still had it, seems like we were all just waiting for the right timing. He came over the next day and purchased the truck leaving me enough money to buy an older used truck and put a large down payment on the business.
Thus EWG Printing was born. I set up the equipment in my parent's garage and started printing shirts. I had no idea what I was doing, but I remembered a story that my dad had told me about when he was starting his window business. My grandfather told him to hire an old guy that had been in the window business his whole life, and to learn everything he could from him. That old man taught my dad a lot, and I set out to do the same thing. I hired an experienced printer and basically glued myself to her hip for months, watching, asking questions, learning every trick she knew. After 6 months or so she moved on, and I hired another experienced printer. I then learned everything they could teach me. This cycle repeated itself over and over again for the first 5 years, until we settled on our current printer that has been with us for 5 years now. Everybody that came through the shop taught me something.
A Few Months after starting EWG I bought my own house and moved the shop to a large barn that was on the property, it was actually the sole reason we bought the property. For 10 years I ran this business out of my home. For 10 years I had another full time 9-5 job doing something else, and ran EWG Printing every night after putting my kids to bed, weekends, and my days off. I spent a lot of time working in the shop as the rest of my family slept and have seen more than a few sunrises standing behind that press printing away. I can't count the number of times I got in trouble for falling asleep at work or got laughed at for sleeping in odd public places.
I Am Now Proud to say that after being in business for 10 years not only was I able to pay off the loan I took out from the people that sold me the shop but I also quit my other full time job, and moved the shop into an actual store front on Broadway in El Cajon. Again there were a lot of things that contributed to all of this that helped the timing of it all to work out. No my clothing line never took off but I discovered something else that I love and now get to do every day. I now run a successful screen printing shop that I love, that I built through long hours of toil and sweat. I have refined my printing style and technique so that I can honestly say I am now a craftsman. On Sunday afternoon I always see a lot of Facebook posts about the dreaded Monday to come, the start of another work week. The hatred of having to go to work and grind it out for another 5 days till the weekend comes again. Well that's not me! I love my job, I love printing shirts. I love being a small part of people's teams and events by providing shirts that bring everybody together and gives them something to talk about for years to come as they wear those shirts over and over again. It's been a long hard 10 years, but today I'm living the dream, loving life.